Sober Studios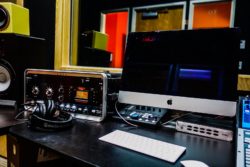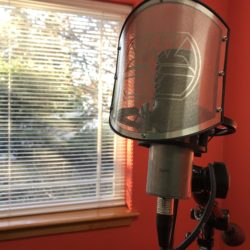 At Royal Life Centers, our programs are designed around a multi-faceted holistic approach. Our hands-on music therapy program is an integral part of that approach. Through our music therapy program— Sober Studios,- our guests are able to express and channel their feelings, thoughts and emotions in a healthy way.
Research has shown that music therapy is effective in several areas including: physical rehabilitation, reducing anxiety, increasing motivation to take an active role in treatment, and providing emotional support for guests.
Additional therapeutic objectives of our music therapy program include:
⇒ Using artistic expression as a coping mechanism
⇒ Learn about self and others through art making, poetic/literary response, movement and/or music
⇒ Practice positive risk-taking and working outside of personal "comfort zone"
⇒ Reduce stress and anxiety through leisurely activity
Sober Studios
Our music therapy program takes place in our in-house music production facility, known as Sober Studios. Sober Studios is a multi-track recording studio and therapeutic art space based on Royal Life Centers campuses. Guests are able to choose Sober Studios as a part of their treatment plans to learn songwriting, music production and audio recording basics. Through out our 9-week program, guests write lyrics and create original audio recordings that document their recovery process.
In Sober Studios, our guests work with a music therapist using state of the art technology and recording equipment. During these group sessions, guests write and produce their own music while working towards clinical goals and objectives, and conquering individual fears and barriers that go with the process. A topic is chosen at the beginning of each session which can be something that the guest is struggling with or feels is important to their recovery. Guests write lyrics and then record onto the musical instrumental to be saved and turned into an MP3. Guests are able to have this MP3 file sent to them via email. Music Therapy helps each guest improve self-expression, creative thinking, and effective communication​.
Campus Offerings
Each Royal Life Centers campus with our 9-week program has a Sober Studios recording space. All studios are equipped with industry level audio recording gear. Implementation of full band recording is planned as follows:
Tacoma: Full band recording capability (Spring 2019)
Spokane:  Full band recording capability by the end of 2019
Arizona: Full band recording capability by 2020
Royal Recovery Radio
Royal Recovery Radio is a 24/7 internet radio station devoted to sobriety, wellness and hope. The station is hosted on live365.com (bit.ly/royalrecoveryradio) and features programming that highlights the successes of people overcoming addiction (primarily Royal guests and staff).
Royal Recovery Radio is hosted from Sober Studios, recording studios and therapeutic art spaces located at Royal Life Centers campuses. This station's content consists of specialty shows, live podcasts, Royal alumni DJ sets, interviews and testimonials. Eventually, Royal Recovery Radio will serve as a platform for sober artists around the world to share pro-social, drug free music that promotes a healthy lifestyle.
Reach Out
If you or someone you know has a substance use disorder, and wants to break free from addiction, call us today. Royal Life Centers is a fully licensed, multi-accredited substance abuse treatment program. Located in Arizona and Washington State, our multiple locations offer the right program for everyone. Don't wait any longer. Our team of treatment experts are available 24/7 to take your call and answer any questions. Call us right away to receive your free, no-obligation consultation. (877)-732-6837 or (877)-RECOVERY. Because We Care.